It is safe to say that every foodie, tom, dick, and harry have tried Wagamama. If you haven't, get on google and find the nearest one STAT!! So I suppose it is no surprise that I
­—

as well as most Brunelians (Brunel Uni students) and residents of Uxbridge, was excited for the opening of Wagamama in our dear town.
I waited with anticipation and planned on going to the opening but I unfortunately couldn't and had to keep putting it off, that is until tonight. I went for dinner with Gaya and a friend and to my surprise we had to wait for a table. I guess it is a smashing hit!! This might be because it's a Sunday night or because it recently opened, heck who am I kidding it is because it's Wagamama!!
We didn't have to wait for long but it was okay cos we got the chance to peruse the menu. One thing we noticed is that there's a difference from the regular menu and this one was limited but most of the popular dishes were definitely on there (Calm down, there's a Firecracker ;).
The sitting area was set out as the picture below and I liked it. It makes it comfortable whether you are in a group or alone. Plus I have a thing for East Asian architecture so I liked the way this was set up. The kitchen is an open plan setting and there are some stools around there as well. How nice to have your food prepared right in front of you (Note to self: try that out)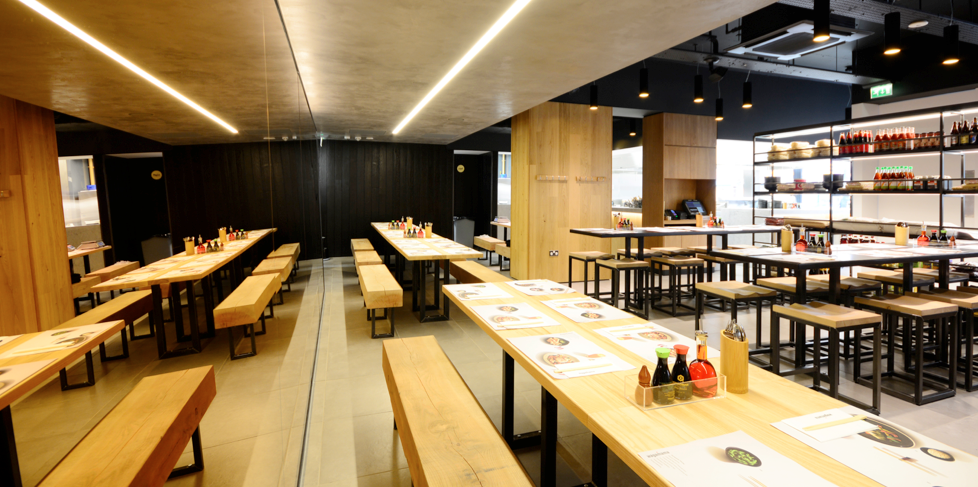 We already knew what we wanted so we went straight ahead to order. If you're a longtime reader of the blog, you already know my thing for lime and mint drinks. So I ordered the super green juice which basically is apple, mint, celery and lime.
For food I ordered for the Chicken Raisukaree (BTW I'm not sure if this is spelt the way the Japanese pronounce it but I've heard them say curry as karee in J-Drama's) This is a mild, coconut and citrus curry, with mangetout, peppers, red and spring onions, served with white rice, a sprinkle of sesame seeds, red chillies and coriander. Now that's a mouthful (Pun intended ;) but at least you know exactly what's going in your dish. It was a bit bland for my taste but luckily there have soy sauce, chilli oil and flakes on the table so I seasoned it to my taste.
Gaya had the Cha Han Donburi which is stir-fried brown rice with egg, mushrooms, mangetout, sweetcorn and spring onion usually served with a side of Japanese pickles but she opted for Kimchi (Korean pickled cabbage) instead.
Note: at restaurants you can sometimes swap things around so it is wise to ask :)
This dish was well seasoned and there wasn't too much oil plus the kimchi complimented it. However, the kimchi tasted like Mart Kimchi (the packaged kimchi you find at Asian supermarkets). I am still yet to taste authentic kimchi!!
Raksha ordered Teriyaki Donburi Chicken with sticky white rice, shredded carrots, pea shoots and spring onion, garnished with sesame seeds and served with a side of kimchee. The teriyaki chicken was delicious but the sauce from the chicken wasn't enough to season the whole dish so she added chilli oil, soy sauce and chilli flakes. Made a lot of difference and brought out the flavour of the dish.
A noticeable thing was that the service was superb. The staff were very friendly and the food didn't take long. They made sure you didn't lack a thing. Plus I noticed there wasn't a service charge added so they left the option to the customer. The prices were reasonable as well.
I believe this was a successful trip and a first of many to come. I can't wait to sample the other things on the menu. I noticed that they had a bulgogi dish (although it was pork, I'll have to ask if they had a beef or chicken alternative) and a Korean pancake that I can't wait to try ­— the Korean geek in me is very happy. Here's to hoping they add more Korean dishes to the menu (errhmm Kimchi fried rice). If you are reading this Wagamama staff, expect to see more of me :)
As a Foodie and a lover of Asian cuisine, this was the best thing to have happened in Uxbridge culinary world. Good news is they have a take-out menu but I think it is just for collection at the moment but hopefully there will be delivery in the near future. To view the menu and more details, check out the website.
I'm sure everyone knows the way to Wagamama but for the visitors to Uxbridge here's a map to guide your way.
お食事をお楽しみください ~ Enjoy Your Meal