Source: RT
I woke up this morning to the sad news that a South Korean Ferry capsized 20km off the coast of Jeju Island. The 146m-long vessel has a capacity of about 900 people but was carrying about 459 people when it capsized. It was travelling from the port of Incheon, in the north-west, to the southern resort island of Jeju. It sank within two hours of sending a distress signal, reports said. It is not yet clear what caused the incident, but witnesses described hearing an impact, before the ship listed and quickly sank.
Lee Gyeong-og, the vice-minister of security and public administration, was quoted by the AP news agency as saying that 30 crew members, 325 high school students, 15 school teachers and 89 non-student passengers were aboard the ship. Many of the passengers were students from a high school in a suburb of Seoul heading off on a four-day field trip to Jeju.
South Korean President Park Geun-hye has expressed sadness over the incident, saying it was "truly tragic" that students on a field trip were involved in "such an unfortunate accident".
A lot of people have compared the tragic accident to the sinking of the British Vessel Titanic on 15 April 1912. This incident happened on the 16th of April 2014, 102 years after Titanic.
Of the 459 people on board, 4 people are now said to have died and dozens of others have been hurt. 174 have been rescued so far.

As frantic rescue operations continues late into the night under light from flares, hopes are fading for the 281 unaccounted for.
Pictures from the scene showed rescue teams balanced on the sinking hull pulling teenagers from cabin windows. Some of their classmates jumped into the sea as the ship went down. The U.S navy have sent in help and there are others on standby if need be.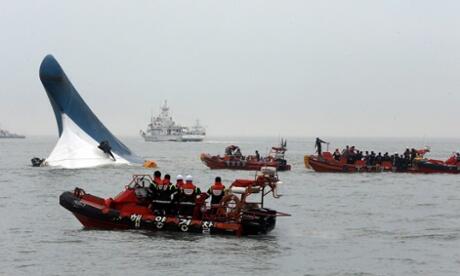 Source: Breaking News
Park Sung-ho, the father of one of the students said
"I can't even describe how I feel now. I was super nervous, even specially trained soldiers will have a hard time if they get stranded at sea. Then what a shock it must be to those kids? I'm sure it must have felt devastating. It's even worse for the parents."
Some students sent out messages to their family when the incident was happening saying how much they love them and how they might not see them again. Parents of the students are gathered in the high school awaiting news of their kids. One parent was said to have received a message from her son saying he has been rescued and is now safe. Survivors are currently receiving medical attention and warmth at a Gym in Jindo, South Korea.
Source:

coeurhan
My prayers goes out to the Families and Passengers especially the frightened students who are still yet to be found, I cannot begin to imagine what you are going through right now. I am a student just like you and I don't know how I would have been able to handle the situation. We are all hoping for a successful rescue operation and we shall keep praying for you and the people searching for you.

여러분

화이팅!!!
Twitter: @ChonunMiRa
With love and prayers,
meera